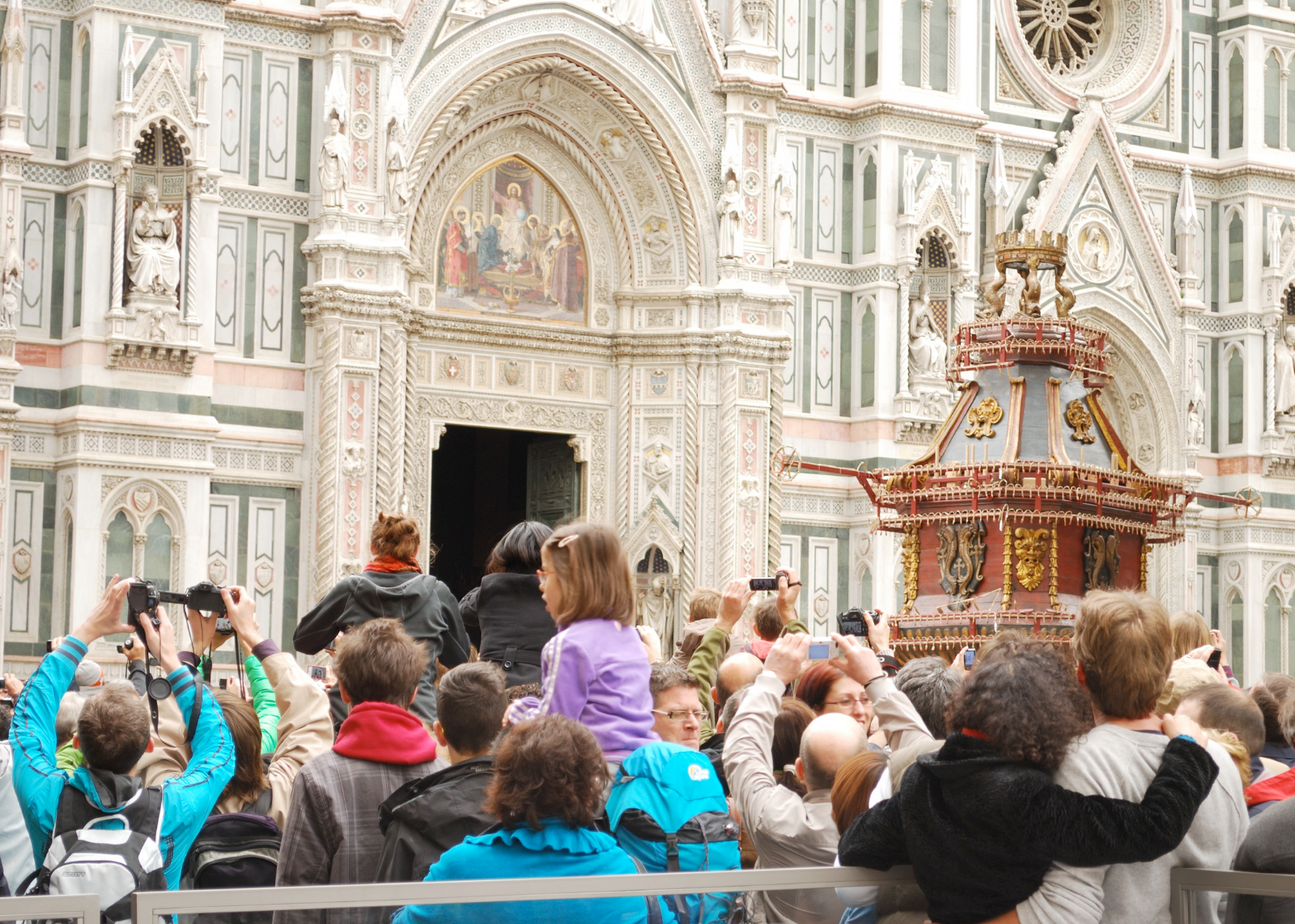 The Explosion of the Cart in Florence
---
The Explosion of the Cart is an event that is celebrated every year in Florence, on Easter Sunday, which this year will be April 17, 2022.

The first decorated wagon in history, in 1622, was called "Brindellone". The cart consists of a tower about 2-3 floors high and is pulled by 2 garlanded oxen, which cross the city until reaching Piazza del Duomo.

The origin of the festival comes from a young Florentine called Pazzino, belonging to the noble de'Pazzi family, who in 1099 was the first to climb the wall of Jerusalem to raise the Christian flag, during the First Crusade of the Holy War. As a reward, he received from the commander Goffredo di Buglione, Duke of Lower Lorraine, three flint stones from the Sacred Sepulcher, now preserved in the Church of the Holy Apostles.
In fact, the ceremony of the Explosion of the Chariot begins in the morning, when a priest lights the Easter candle by rubbing the three flints. The candlelight will then collect the coals present inside a container in the wagon and so the procession starts.
When the chariot arrives in front of the Cathedral of Florence, the archbishop lights a dove-shaped rocket from the altar, which, through a rope mechanism, runs through the entire central nave of the Cathedral and reaches the chariot that is outside. blowing up all the firecrackers and fireworks in the tower.
Once the fireworks have gone off, the dove-shaped rocket should go back down the aisle and if that doesn't happen it is a symbol of bad omen.

While the chariot parades throughout the city, drummers and flag-wavers dressed in historical clothes, representatives of the institutions of the city and representatives of the clergy accompany the ceremony laughing at this even more magical event.

The ancient festival has always attracted a large crowd of tourists, citizens and numerous peasants of the Florentine countryside who drew the auspices for the harvest from the happy outcome of the race of the dove on the rope.
You may also be interested in: The Carnival of San Gimignano