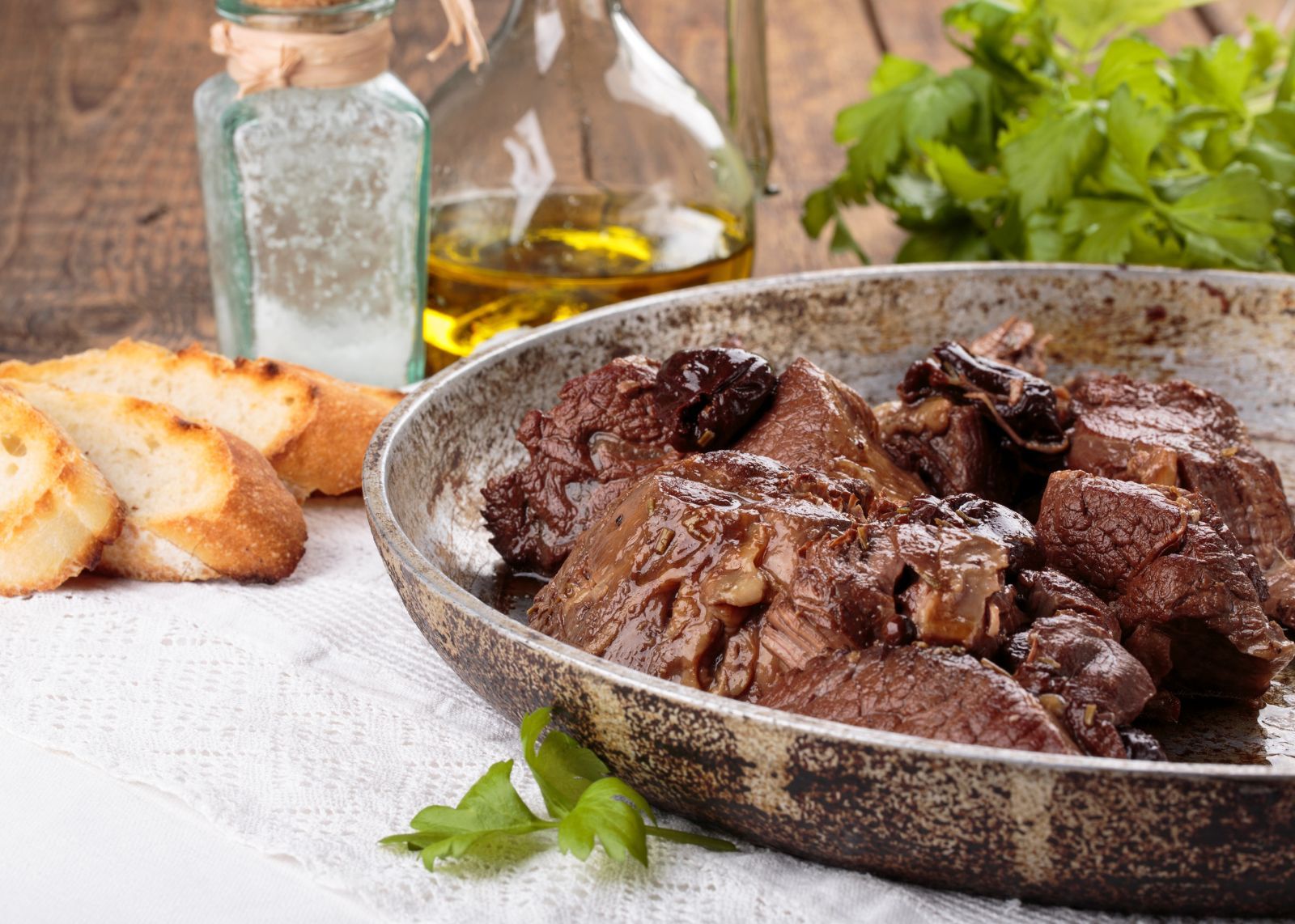 The peposo from Impruneta
---
Villa Ducci is a Hotel in San Gimignano with a restaurant where you can taste the typical Tuscan specialties. Among the latter we find the peposo, a typical recipe of the Impruneta area.
It is also called peposo alla fornacina because in the past the meat was placed in terracotta bowls and cooking was very slow, positioned at the mouth of the furnaces. The kilns could thus recover after their labors as artisans. To cover the smell of a raw material not always very fresh, a generous dose of red wine and peppercorns was added. The long cooking would have softened even the toughest meat, which would have become a sort of cream, to be enjoyed accompanied by abundant rations of bread.
Ingredients
Priest's hat 1400 g
Red wine (Chianti) 500 g
Black peppercorns 10
4 cloves garlic
Extra virgin olive oil to taste
Peposo recipe
First of all, place the black peppercorns in a gauze and close it with a string.
Then cut the meat into thick slices and then into strips. Put a cast iron pan on the stove if possible, add the meat, the peeled garlic cloves and the gauze with pepper. Stir and brown the meat for about 10 minutes, then pour in the red wine and cover. Cook over low heat for about 2 hours.
Once the two hours have passed, remove the lid and season with salt.
Cook for another two hours, always over low heat, stirring occasionally.
When the sauce that has been created withdraws, you can remove the gauze with the pepper and turn off the heat. Adjust the salt pepper and it's ready.

Peposo is a very healthy and light dish, with a unique flavor that each family characterizes with some modifications as is customary for popular recipes.
The possibility of preserving the meat for longer times, the introduction of tomatoes, the improvement of cuts, the economic accessibility of pepper and spices, the general increase in the standard of living have changed the preparation over the years with a series of variants.

You may also be interested in: The ribollita