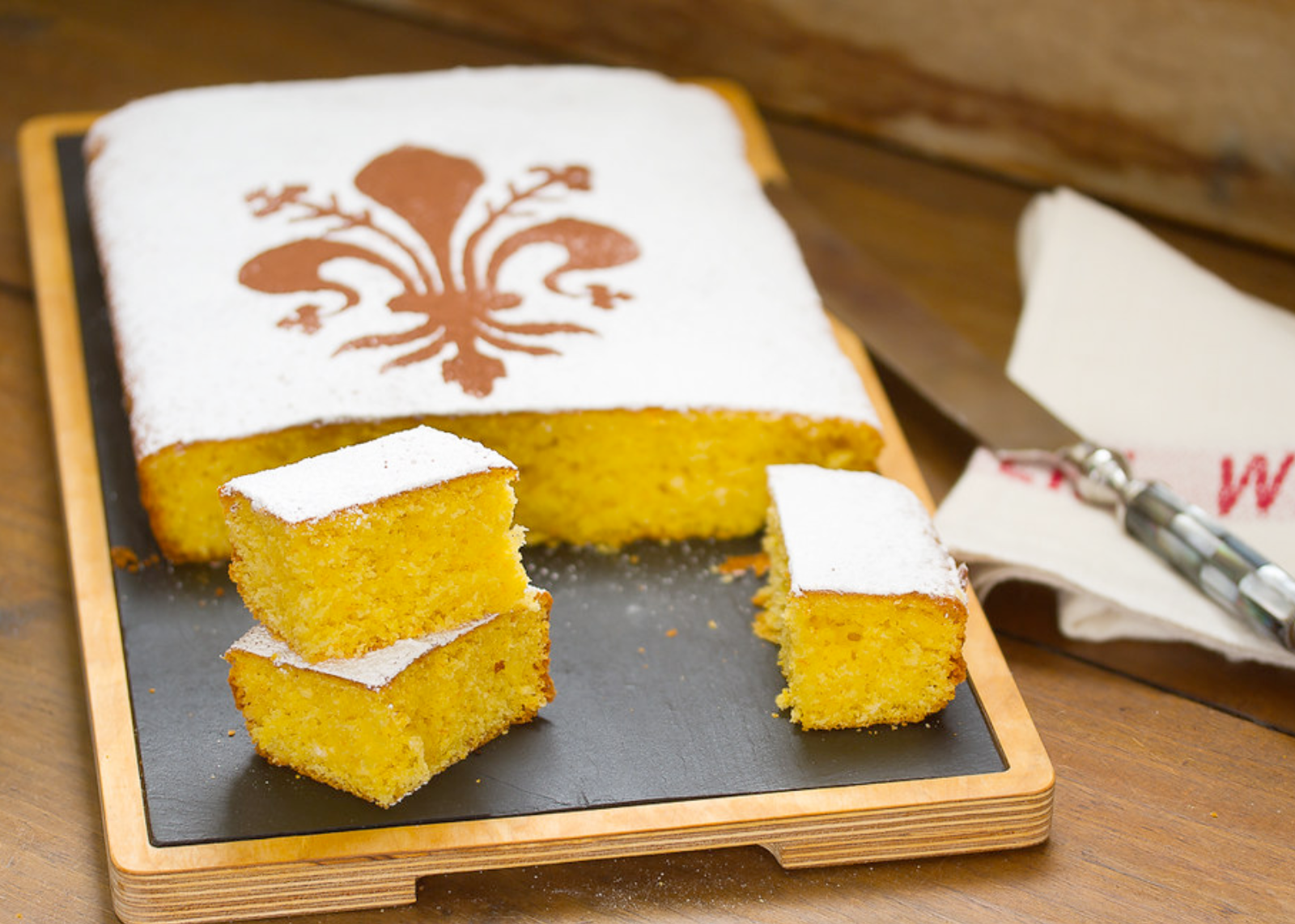 Schiacciata alla fiorentina
---
The Florentine Schiacciata is a typical dessert of Tuscany, especially during the Carnival period, but also during the rest of the year. It is a soft cake, made with simple and poor ingredients. One of the main characteristics is that the symbol of the city of Florence is created on top of the cake with icing sugar: the Florentine lily.
Furthermore, it must not be more than 3 cm high!
Ingrediants
Sugar 225 g
Whole milk at room temperature 90 g
Powdered yeast for cakes 16 g
Eggs 165 g (about 3)
00 flour 300 g
Extra virgin olive oil 50 g
Orange 1
Vanilla bean 1
Powdered sugar to taste
Bitter cocoa powder to taste
Preparation
The preparation of the Florentine schiacciata begins by scratching the orange zest in a bowl, then you have to squeeze the juice, filter it and keep it aside.
In another bowl, instead, break the eggs and add the sugar and the seeds of the vanilla pod to them. Assemble everything. At this point we will obtain a light and fluffy mixture, to which is added the grated orange peel and the oil.
When the oil is absorbed, you can pour the orange juice done before and, when the latter is also absorbed, add the whole milk at room temperature slowly.
Now we can add the flour, already sieved, putting one spoon at a time and letting it absorb before adding the next spoon.
After adding the flour, let's move on to the yeast.
We must obtain a smooth and homogeneous dough, to be poured into a 24x17 cm mold, previously buttered and floured.
Bake in a preheated static oven at 180 ° for about 50 minutes. Once cooked, take it out of the oven and let it cool before removing it from the mold. Once cold, it can be placed on a tray and sprinkled with icing sugar. By downloading and printing the stencil with the lily symbol, just cut out the black part, lay the sheet in the center of the cake and sprinkle with bitter cocoa. We lift the stencil gently and finally see the shape.
Alternatives
The Florentine Schiacciata is usually filled with custard.
Other alternatives for the filling are whipped cream, chantilly cream, chocolate cream.


Our Hotel in San Gimignano offers typical Tuscan dishes to its customers every day. Come and discover the delights of the restaurant!

You may also be interested in: The Sienese gnudi, a Tuscan specialty