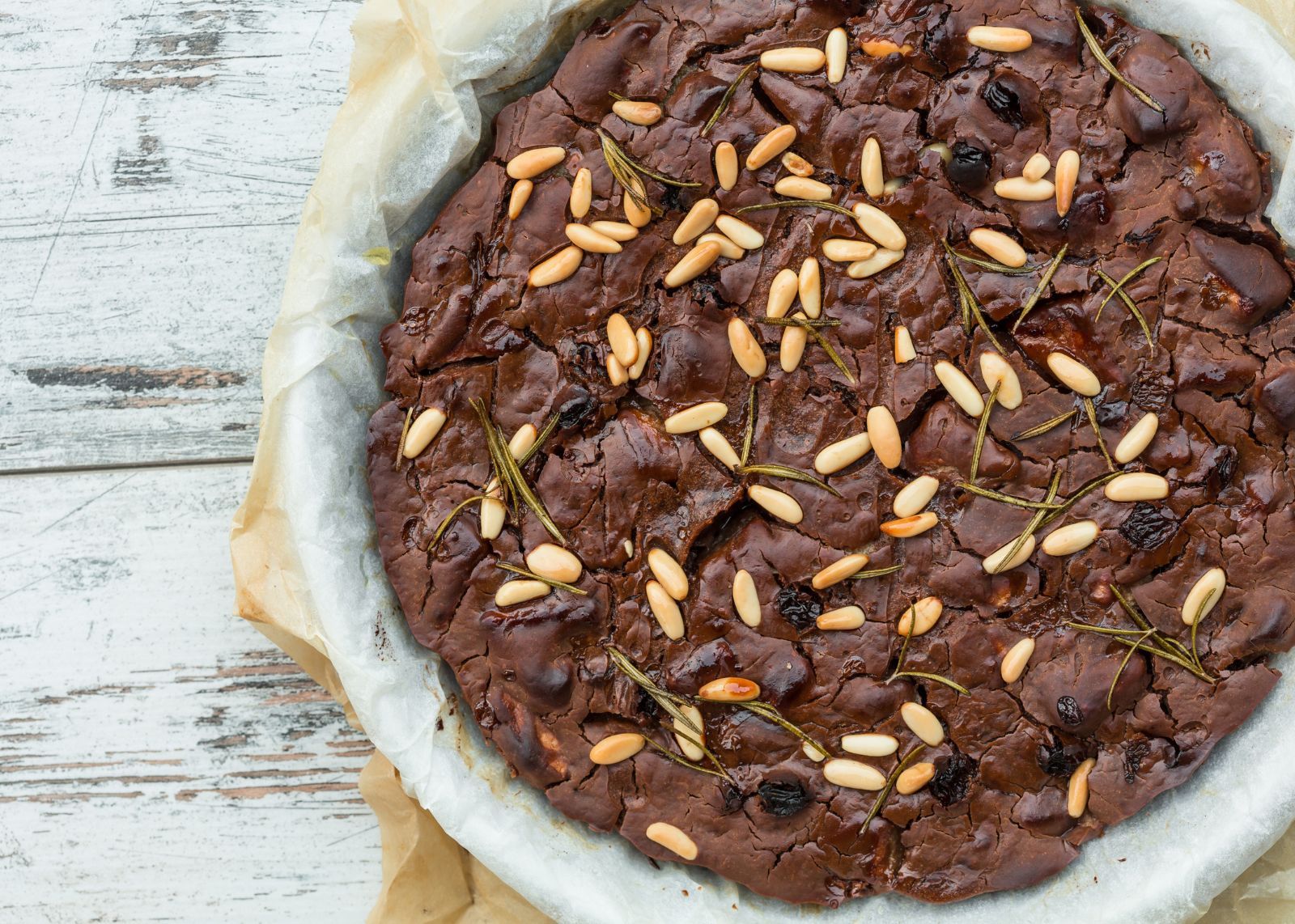 Tuscan-style castagnaccio
---
Hotel Villa Ducci is a hotel in San Gimignano with a restaurant, where typical Tuscan dishes are prepared with skill and dedication. Among the recipes of the region, we present the castagnaccio, a sweet made with chestnut flour.
Origin
This cake has been around since the sixteenth century. The recipe is very simple and for this reason it was considered a recipe for the poor.
To date, it is cooked in many regions of Italy.

A romantic legend tells that the rosemary leaves used to perfume the chestnut cake were a powerful elixir of love: the young man who had eaten the cake offered to him by a girl, would have immediately fallen in love with her and would have asked for it in marriage.
Ingredients
Chestnut flour 500 g
Raisins 80 g
Pine nuts 100 g
Extra virgin olive oil 40 g
Water 650 g
Walnut kernels 100 g
Salt up to 5 g
1 sprig rosemary
Castagnaccio recipe
First wash the raisins and soak them for 10 minutes to rehydrate them. Then chop the walnut kernels and leaf through the rosemary.
Now sift the chestnut flour and add the water a little at a time, mixing with a hand whisk. When the mixture becomes smooth, add the walnuts and pine nuts, keeping a small amount aside.
The raisins can be dried after 10 minutes and added to the mixture, however, by advancing a small amount. Stir the mixture and add the salt.
At this point the pan (32 cm in diameter) must be oiled and the dough poured into it. Now it can be sprinkled with pine nuts, walnuts and raisins that have been preserved. finally, add the rosemary and oil. Cook for about 35 minutes in a preheated static oven at 195 °.