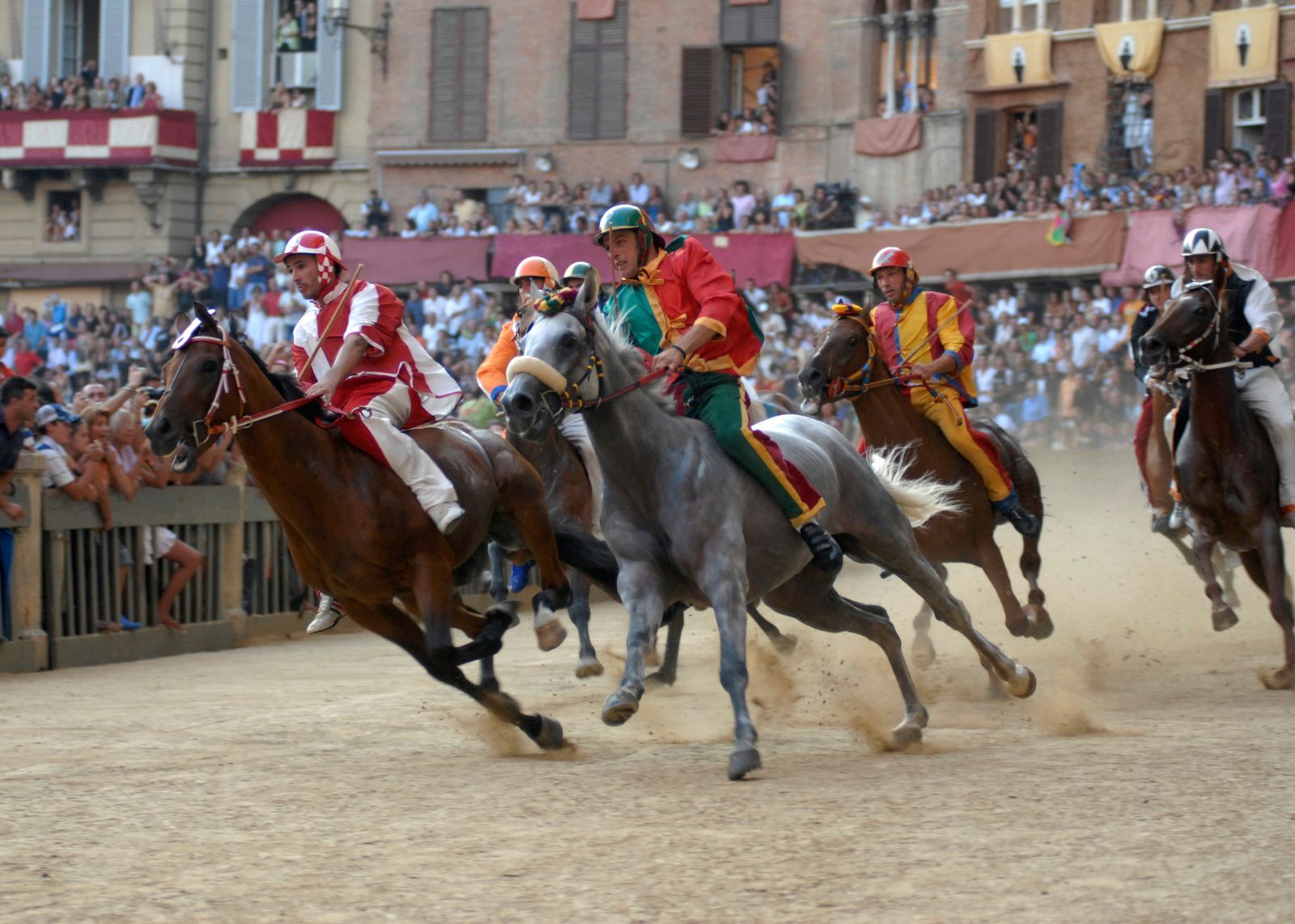 The Palio of Siena
---
The Palio di Siena is a competition between the City quarters of Siena in the form of an equestrian joust of medieval origin. It is an event that has taken on international fame and every so many tourists arrive from all over the world to see it.
Il Palio: What is it?
As just mentioned, the Palio is an event that takes place every year in the city of Siena on 2 July (Palio di Provenzano, in honor of the Madonna di Provenzano) and on 16 August (Palio dell 'Assunta, in honor of the Assumption of Mary ). The Sienese districts, that are the areas into which the city is divided, unfold in a horse race in the historic Piazza del Campo.
There are 17 city quarters: Eagle, Caterpillar, Snail, Owl, Dragon, Giraffe, Porcupine, Leocorno, Wolf, Seashell, Goose, Wave, Panther, Forest, Tartuca, Tower, Valdimontone. Each has its own coat of arms and its own colors, clearly visible wandering through the streets of Siena.
The Palio is very important for the "contradaioli", those who belong to a district. In fact, throughout the year there are parties and dinners in the various districts.

The Palio race is also called "career" and on its occasion Piazza del Campo is covered with tuff for the horse race.
For each career 10 districts participate out of the 17 mentioned above: 7 are those that did not run last year and the other 3 are drawn by lot. On August 16 this year the participating Contrade will be: Tartuca, Wolf, Giraffe, Owl, Leocorno, Seashell, Valdimontone, Wave, Forest and Snail.
The day of the palio
At 8 in the morning in the chapel next to the Town Hall the "Mass of the jockey" is celebrated by the Archbishop, followed by the last trial run, defined as "provaccia" because the jockeys try not to force the horses.
At 10:30 in the Town Hall, with the presence of the Mayor of Siena, there is the "signature of the jockeys", which can no longer be replaced.
At 3 pm, after the blessing of the Horse, the historical procession begins, arriving in Piazza del Campo around 5.30 pm.
At this point the outbreak of the firecracker announces the exit of the horses: each jockey has an ox backbone with which he can incite his horse or annoy the others during the race.
The race
The race starts from the "Move", an area of ​​Piazza del Campo delineated by two ropes. Only the tenth district enters the race, thus establishing the start of the race.
The horses have to travel three laps of the square. The first horse to reach the finish line wins and the Drappellone in the Duomo is delivered to the Contrada in this case for the August palio.

You may also be interested in: Mercantia, the street theater festival